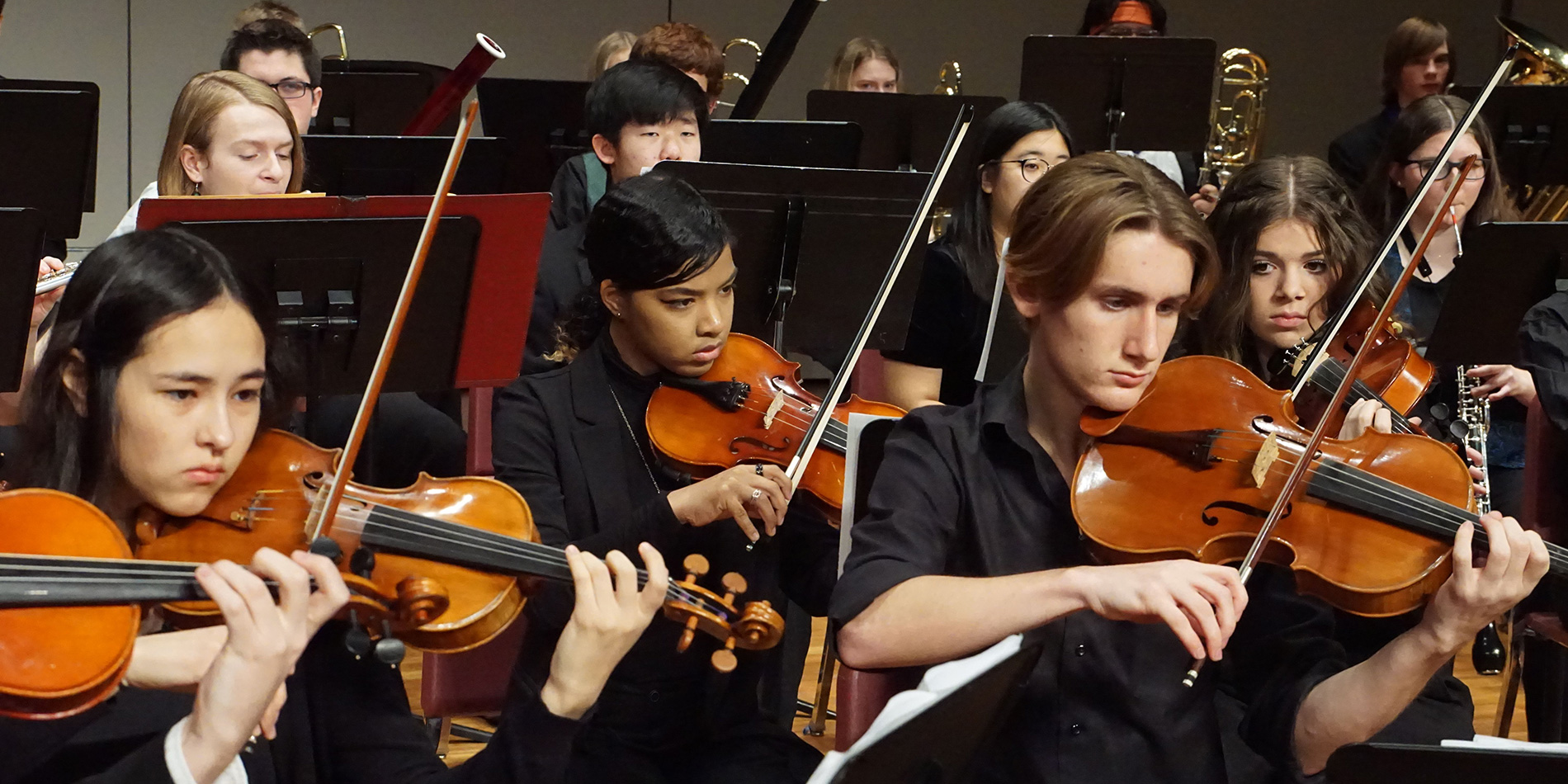 ALL-STATE MUSIC FESTIVAL
2023 ASAA/FIRST NATIONAL BANK ALASKA
ALL-STATE MUSIC FESTIVAL
November 16-17-18, 2023
Hosted by: Bartlett and West Anchorage High Schools & ASAA
DRESS CODE
November 16-17th: Rehearsal: students are to follow the Bartlett High School Dress code.
No Hats, no hoods.
November 18th: Dress Rehearsal and Concert: students are to wear their school's formal concert uniform. If the school does not have a formal concert uniform, students are to wear all black, floor length dress, skirts, or pants.
REHEARSALS
November 16-17th, 2023: All State Rehearsals at Bartlett High School
November 18th, 2023: All State Dress Rehearsal at West Anchorage High School
GALA PERFORMANCE
6:00 PM Saturday, November 18, 2023
West Anchorage High School
MUSIC FORMS
Deadlines and forms required for State Championship participation.
• All-State Music Forms
MUSIC HANDBOOK
GENERAL INFORMATION
• 2023 All-State Music Festival Memo 1
• 2023 All-State Music Festival Selections
• 2023 All-State Music Festival Format
• 2023 All-State Band Selected Participant List
• 2023 All-State Mixed Choir Selected Participant List
• 2023 All-State Orchestra Selected Participant List
• 2023 All-State Treble Choir Selected Participant List
• 2023 All-State First Chair Awards
ALL-STATE MUSIC GUEST CONDUCTORS
All-State Band: Dr. Robert Belser, University of Wyoming
All-State Mixed Choir: Julie Yu Oppenheimer, Kansas State University
All-State Orchestra: Dr. Charles Laux, Lassiter HS, Georgia
All-State Treble Choir: Kristina MacMullen, Baylor University
WHO TO CONTACT
ASAA Music Coordinator: Cam Bohman – cambohman@msn.com
ASAA Assistant Music Coordinator: Barbara Carroll – barb@asaa.org
On-Site Coordinator: Jonathan Cannamore, Bartlett HS ASD – cannamore_jonathan@asdk12.org
Band Coordinator: Justin Somaduroff, South High ASD – somaduroff_justin@asdk12.org
Mixed Choir Coordinator: Annie Herzog, West High ASD – herzog_annie@asdk12.org
Orchestra Coordinator: Michael Preskitt, Bartlett HS ASD – preskitt_michael@asdk12.org
Treble Choir Coordinator: Ashley Easton-Petito, Chugiak and ER High ASD – eastonpetito_ashley@asdk12.org
MORE INFORMATION
Make sure to view the Music home page for Gala Performance information, ticket information, photos and more.
AUDITION INFORMATION
2023 AUDITION REQUIREMENTS
Auditions open Monday, September 4, 2023 at 8:00 AM
Auditions close Wednesday, September 20, 2023 at 11:55 PM
-$20 Audition Fee due at time of audition upload. Paid via Credit Card or PO.
-$20 Participation Fee, this will be charged to the school, after participant selection.
ALL-STATE BAND
The 2023 ALL-STATE BAND auditions are using the WIBC Audition Material – SET A with the exception of the Piccolo and Bass Trombone which will utilize last year's audition material
PICCOLO:
BASS TROMBONE:
For the PERCUSSION AUDITIONS: Information coming
2023 BAND AUDITIONS:
Students are to STOP where the written word "stop" indicates.
i.e. Alto Saxophone mm 32 in Sonata No. 3
Piccolos will record the WIBC Flute audition AND the NAfME Track 5 "Molly on the Shore".
Bass Trombone will record the WIBC Trombone audition AND the NAfME Track 5 "Etude No. 28, Complete Method for Tuba".
AS-Band-Piccolo
AS-2023-Band-Flute
AS-2023-Band-Clarinet
AS-2023-Band-Bass-Clarinet
AS-2023-Band-Alto-Contra-Alto-Clarinet
AS-2023-Band-Alto-Sax
AS-2023-Band-Tenor-Sax
AS-2023-Band-Baritone-Sax
AS-2023-Band-Oboe
AS-2023-Band-Bassoon
AS-2023-Band-Trumpet
AS-2023-Band-French-Horn
AS-Band-Trombone
AS-Band-Bass-Trombone
AS-2023-Band-Baritone-TC
AS-2023-Band-Baritone
AS-2023-Band-Tuba
ALL-STATE CHOIR
The 2023 ALL-STATE CHOIR auditions are the same as the NAfME ALL-NORTHWEST 2023 CHOIR AUDITIONS. HOWEVER, the Alaska Choir Auditions DO NOT REQUIRE the #5 and #6 All Northwest auditions for each voice. The ALASKA All-State Choir auditions require only four auditions:
1: Major Scale
2: Major Scale
3: Chromatic Scale
4: The new "Winter Song" melody which replaces "America, the Beautiful" in past Alaska All-State auditions.
2023 CHOIR AUDITIONS:
AS-CHOIR-AUDITION-SOPRANO-1
AS-CHOIR-AUDITION-SOPRANO-2
AS-CHOIR-AUDITION-ALTO-1
AS-CHOIR-AUDITION-ALTO-2
AS-CHOIR-AUDITION-TENOR-1
AS-CHOIR-AUDITION-TENOR-II
AS-CHOIR-AUDITION-BASS-I
AS-CHOIR-AUDITION-BASS-II
ALL-STATE ORCHESTRA
The 2023 ALL-STATE ORCHESTRA auditions are using the ALASKA ALL-STATE AUDITION SET B.
1. Major Scale
2. Melodic Minor Scale
3. Excerpt
4. Excerpt
5. TBD: HARP AUDITION
6. TBD: PIANO AUDITION
2023 ORCHESTRA AUDITIONS:
AK All-State Aud Violin, Odd, Set B
AK All-State Aud Viola, Odd, Set B
AK All-State Aud Cello, Odd, Set B
AK All-State Aud Bass, Odd, Set B
MUSIC SUPPORTERS
THANKS TO AMEA FOR THEIR SUPPORT OF ALL STATE MUSIC AND SOLO & ENSEMBLE FESTIVALS