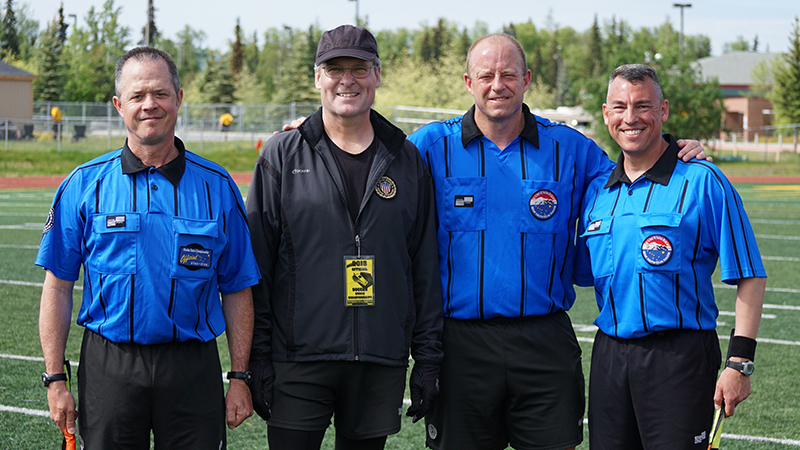 CODE OF ETHICS
Officials at interscholastic athletic events are participants in the educational development of high school students. As such, they must exercise a high level of self-discipline, independence and responsibility. The purpose of this Code is to establish guidelines for ethical standards of conduct for all interscholastic officials.
Officials shall be aware of and implement the NFHS Suggested Guidelines for Management Of Concussion In Sports.
Officials shall master both the rules of the game and the mechanics necessary to enforce the rules, and
shall exercise authority in an impartial, firm, and controlled manner.
Officials shall work with each other and their state associations in a constructive and cooperative manner to improve their skills.
Officials shall uphold the honor and dignity of the profession in all interaction with student-athletes,
coaches, athletic directors, school administrators, colleagues, and the public.
Officials shall prepare themselves both physically and mentally, shall dress neatly and appropriately, and shall comport themselves in a manner consistent with the high standards of the profession.
Officials shall be punctual and professional in the fulfillment of all contractual obligations.
Officials shall, while enforcing the rules of play, remain aware of the inherent risk of injury that competition poses to student-athletes. Where appropriate, they shall inform event management of conditions or situations that appear unreasonably hazardous.
Every member of the officiating profession carries a responsibility to act in a manner becoming a professional person. The conduct of any official influences the attitude of the public toward the profession in general as well as toward the official in particular.
Toward that objective, officials should follow these guidelines:
1. Accept your role in an unassuming manner. Showboating and over-officiating are unacceptable.
2. Maintain confidence and poise in controlling the contest from start to finish.
3. Publicly shake hands and emphasize sportsmanship with coaches of both teams before the contest.
4. Never exhibit emotions or argue with participants, coaches, or spectators when enforcing rules.
5. Follow specific protocol procedures for events where outlined by ASAA and the host school.
6. Make every attempt to be consistent in the enforcement of rules and treatment of both teams.
7. Use good judgement while administering rules regarding fair play.
8. Never prejudge players or coaches based on prior experiences.
9. Report any ejection of players or coaches to ASAA within 24 hours of the contest.
10. Accept evaluation of your skills/conduct and be open to making improvements.
11. Immediately remove any athlete from play and notify the Coach/Meet Management of any athlete that exhibits possible signs and symptoms of concussion.
The Alaska School Activities Association expects all officials to be competent and know the rules, recognize the importance of his/her duties, enforce the rules confidently to enhance a respect for the game, and promote good sportsmanship among all those involved.